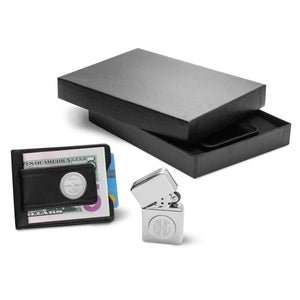 Would you love to find a personalized gift for your special guy, one that he can put to good use rather than set on a shelf or toss in a drawer?
When you need a special gift for him that can be personalized, consider the function and charm of this Wallet and Lighter Set. Perfect for groomsmen gifts or any other occasion when a gift is needed, this handsome set is fine crafted for daily use and durability. Fetching chrome and black leather come together to create handsome and appealing gifts for him.
Arriving in a specially designed gift box, you can shower your groomsmen with adoration without putting a large dent in your wedding budget. This is especially helpful when busy grooms and brides-to-be are searching for the most affordable ways to say thank you for helping with their special days. Gift boxed with custom foam packaging.
Item specifications:
Arrives in a handsome gift box
Long-lasting refillable lighter strikes every time
Durable men's leather wallet offers ample room for credentials
Wallet Measures 3" x 3 3/4" Lighter Measures 2 1/4" x 1 3/8" x 1/2"