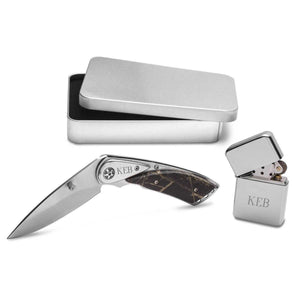 Celebrate your favorite outdoorsmen or groomsmen with these personalized camouflage knife and lighter sets, which are sure to become a treasured gift.
When you need a special token of love or thanks for your groom or groomsmen, it is best to think about what gifts for him will be most loved and appreciated. If you are shopping for hunters, outdoorsmen and hobbyists, that choice would be a personalized Camouflage Lock Back Knife and Chrome Ligher Combo Set. This knife holds a sharp edge and features a camo handle while the lighter is an attractive silver-tone. With his initials engraved on this set, you are sure to be his favorite bride. Gift boxed with custom foam packaging.
Item Specifications:
Excellent gifts for him
Personalized set with 3 initials
Complete set features knife, lighter and silvertone keepsake box
Knife measures 5" x 1 1/2" x 3/4", 9" fully extended
Lighter measures 1 1/2" x 2 1/8" x 1/2"